As sales reps, we all want more prospects, and we all want to close more deals.
And as 8 out of 10 prospects prefer to talk to sales reps via email over other mediums, it makes perfect sense to focus on follow up emails.
But here's the bad news. Most sales reps don't have a system to follow up with leads at scale. They aren't following up as much as they should (or could), letting prospects slip through the cracks. And if reps get more leads in the funnel than they can physically deal with, it's impossible to (manually) nurture them all in a way that leads to a sale.
That's where follow-up automation comes in.
Adding an automated sales sequence or email campaign into a sales reps' toolkit means they can follow up leads at scale and automate tasks they previously had to do manually. Automation not only makes their job easier; it means they can follow up with more leads⁠—with less effort.
Ready to learn how to follow up and sell smarter? Let's dive in.
The psychology behind a follow-up sales email.
Sales emails that get results are more than a sales rep telling a prospect that they're "just following up".
Successful sales emails are deep-rooted in psychology. They tell a prospect why their product is a good fit, what value it will bring, and how it's going to help them achieve their goals.
In an article on Customer Think, Ray Collins said a prospect's buying decision has two sides to it: an analytical one, and an emotional one.
"People are human, so instinct and impulse inevitably shape their logic," he says.
"The buying decision is rarely a purely objective one. Attitudes, assumptions and emotions are also involved."
When following up with a lead and trying to close a deal, these are the roadblocks sales reps need to overcome.
Compliance and cost are parts of a buying decision that sales reps need to tackle in their follow-ups. But you should also be thinking of your prospect's hopes, fears and previous experiences with products similar to yours. No prospect wants to make a lousy buying decision and look bad in front of their boss.
Could have they had a bad experience with a competitor of yours? What if they don't really understand what your product is all about and how it can help them?
All of these factors make a difference in your prospect's buying decision. And it's why a lot of companies fail when they try and follow up (especially at scale). All too often, lazy follow up emails land in prospects inboxes. They lack personality, they are not detail-oriented, and they don't address any of the prospect's fears or concerns.
When we talk about follow up emails that have a chance of converting, we mean the opposite of this:
On the flip side, a team of sales reps writing out manual emails to every prospect is a time suck. Manually following up with prospects isn't a scalable solution for closing deals in a growing company.
And even though the automation is a way to go around this—it comes with some hard and fast rules.
Automation relies on segmenting prospects by their personas.
For email follow-ups to convert at scale, sales teams need to be grouping their prospects by their buying personas.
According to a study by MailChimp, sending an email campaign to a segmented list gets you, on average, 14.40% higher open rates and 62.83% higher click-through rates.
This means an SQL passed over from your marketing team is sent a completely different sales sequence than an outbound lead or a prospect who interacted with your product at a trade show.
Each prospect is in a different place in your sales funnel, so your follow up emails need to meet them where they are at. Following up, especially at scale, isn't a one-size-fits-all approach. That's why once your audiences are defined, it's much easier to send targeted, meaningful emails to them.
Your follow-ups should align with triggers.
It's almost impossible to keep up with where a prospect is at in your sales funnel if you aren't tracking their interactions with your product.
Let's say a prospect opens the first email you send them and clicks on a CTA, which might be a case study or a white paper. In automation, this is called clicking a "trigger". If you track a prospect's triggers, you can change the course of a sales sequence to make sure they get emails that spark their interest and nurture them towards a sale.
On average, triggered and autoresponder (welcome) emails have much higher open (and click) rates than run of the mill emails. A study by Oracle of 350 digital and e-commerce companies found most of them were using several triggers to follow up better with their customers and clients.
By aligning follow-up emails with triggers, your prospects will receive information that they actually want to receive. Stats like this show just how beneficial automated sequences can be.
What an automated follow-up sales email funnel looks like.
When a prospect drops into your sales email funnel, there are three goals you should hit with automated follow-ups:
Nurture a relationship with the prospect
Educate them on the benefits of your product/service
Nudge them to make a purchase decision
Email sales funnels are built much like marketing funnels. They have stages you want your prospects to go through to build trust and convert them into customers. It's not about sending them a "buy now" email and calling it a day. Follow-ups take work.
Depending on whether you're sending a prospect a marketing campaign or a sales sequence, a successful follow-up email funnel has three core parts.
Adding value
The value is always presented in the first email.
But value doesn't mean a hard sell. As a sales rep, you should never try and close a deal on your first email. That's like asking someone to marry you on your first date—it's just awkward.
Instead, you should be giving your prospect something of value, like a free download or an educational resource. Check out this example from Drift.

Source
Notice something? Yep, there's no hard sell.
But what the email does offer up are content pieces to get their new prospects involved in their product. As a result, they begin their journey of positioning themselves as a trustworthy source of information.
Remember, no selling on the first email. Valuable resources only.
Positioning your product/service with authority.
In your following emails, you want to build trust and start showing why your product is a good fit for your prospect's problem.
Check out another example from a sales rep at Envoke.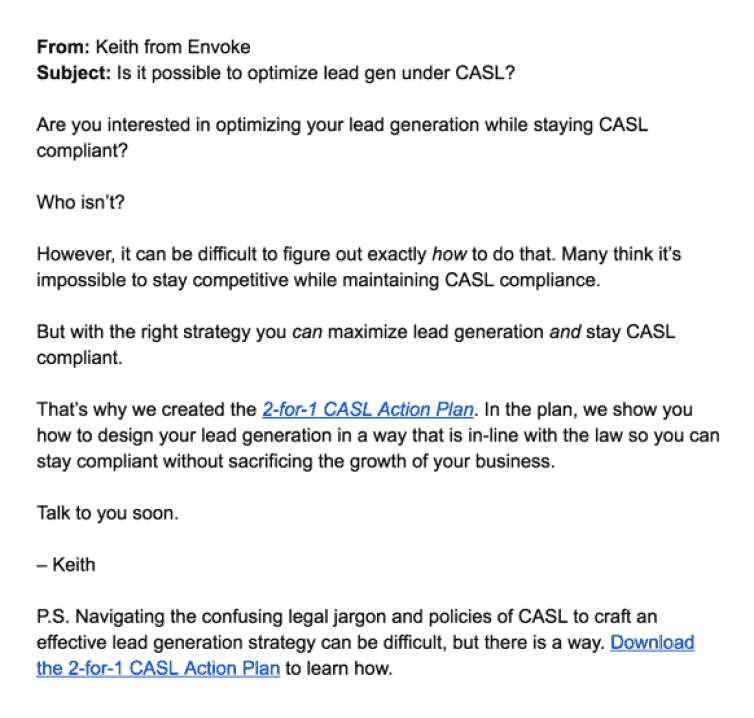 Can you see the technique the sales rep is using in the email?
The email starts by highlighting the prospect's problem (easy to do once your lists are segmented), and then how their product could solve it for them.
Nudging your prospect into a sale.
If your prospect opens your product and positioning emails, this will set off a trigger in your automation sequence.
And with triggers, your follow-ups will be even more powerful. HubSpot uses this exact technique to follow-up on leads that have shown interest on their website.

Source
By catching a prospect after they've shown an interest in your product, you're able to do two things. You show that you're aware of that interest, and then you can help them understand the product further.
The ingredients of a follow-up sales email that gets opened.
Before we get into building email campaigns and sales sequences, there are a few ingredients every follow-up email should have to increase its chances of getting opened.
1. Make sure the subject line is on point.
47% of emails are opened (or chucked in a spam folder) based solely on their subject line.
There is no perfect formula for writing subject lines that get an email opened, but lines with three or four words have been known to boost response rates. Personalizing subject lines helps, too. Adding a prospect's personal or company name can increase open rates by 50%.
2. Send the email at the right time.
HubSpot conducted a mega survey that looked at 20 million emails over 10 months to find out when is the best time to send emails.
The results? Sending sales emails on a Tuesday or Wednesday boosted their chances of getting opened. The survey also the time the email is sent matters, too. The winning time was mid-morning.

Source
3. Give it a clear Call-To-Action.
A study by WordStream found sales emails that had a clear call-to-action (CTA) increased their click-through-rates by 371%.
Clear CTAs also increased sales by 1617%. CTAs are a crucial element to any sales email, so make sure you include one.
4. Don't give up on the follow-up.
According to HubSpot, 80% of sales require five follow-ups or more. But 44 % of sales reps give up on a lead after a one single follow up! Looks like your prospects are playing hard to get.
A study from Iko System saw an 18% response rate to the first email they sent, and 13% to the fourth. The sixth email in the sequence received a massive 27% response rate.
Sales reps who automate their follow-up emails with automated sequences send, on average, 5.1 emails. That follow-up number lands right in the sweet spot of where reps need to be closing more deals with their prospects.
So, it pays to follow up more and follow up consistently.
How to automatically follow up sales leads at scale.
CEO of Siftrock Adam Schoenfield joined forces with Drift to send out 290 automated emails to see what the response would be like.
The results? 58% had at least a 10% reply rate, and 33% had at least a 15% reply rate. Schoenfield said there a lot of characteristics that sales reps use every day in their emails that work well with automations, like asking questions and sending emails in plain text.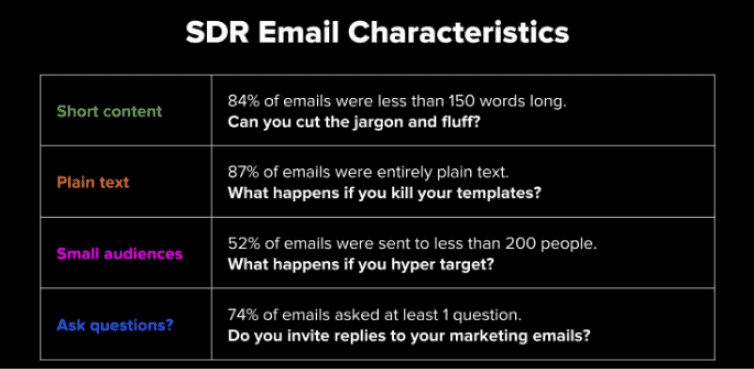 All these characteristics work well in follow up sales emails because it makes them more conversational, more human, and improves buyer engagement.
There are two ways you can automate your follow ups with sales leads depending on how and where they entered your sales funnels.
Let's start with email campaigns.
Email Marketing Campaigns.
"Email marketing" is a broad term, but essentially it's all about creating leads, keeping them engaged and nudging them to buy your product over a series of emails.
Email marketing campaigns are used to welcome and nurture new leads, as well as directing them (gently) down a marketing funnel. According to research collected by the team behind the email-marketing suite Emma, targeted drip emails produce 18-times more revenue than globally broadcasted ones.

Source
Marketing automation is a vast topic, but we could boil it down to this: First, ask yourself what goals you want the campaign to achieve. Then, architect how many emails and in what order to send.
There can be several goals to your emails:
Promote a new product or service
Re-engage a cold lead
Educate a new user how to use your product or service
Upsell/cross-sell an existing customer
Whether you're onboarding a new customer or keeping a user engaged, the email sequence plays a crucial role in the success of each campaign.
So, what does a successful email marketing campaign look like?
SaaS company SamCart used an email campaign to launch their product. The result? It ended up netting them 7-figures in revenue.
Here is how they did it:
They sent automated daily emails to prospects, which involved a series of videos
They tagged prospects who watched at least 20% of their videos
Then, they sent "teaser" content to their most engaged subscribers, who were offered a free trial of the software
"We weren't going to ask anyone to start a free trial if they weren't even interested enough to watch the pre-launch content," Co-founder Scott Moran said. "For folks who were engaged, we gave them a chance to try SamCart."
Finally, they cleaned their email list and cut out uninterested subscribers to boost the delivery of their campaign.
Using an email marketing campaign of daily emails, 1-to-1 personalization, and offering up advanced content for prospects who were engaged, the company signed up over 3,000 new customers.
Sales Email Campaigns.
On the surface, sales email campaigns look very alike to email marketing campaigns, but there's a very significant distinction: while marketing emails are designed to reach larger groups of people and spark their interest enough, sales campaigns do that on the one-on-one basis, yet at scale.
Remember how we mentioned earlier that sales reps stop following up after one attempt? That's exactly what a sales email campaign is designed to cure.
Setting up an automated sales sequence is the way to go to make sure each prospect and all your prospects stay in your sales funnel.
A sales sequence to follow up a prospect might look something like this:
First follow up email
Gentle reminder (2-3 days after the initial email)
Value add (3-4 days after the previous email)
Second value add (3-4 days after the last email)
Break-up email (4-5 days after the last email)
The next part of building a follow-up sales sequence is to decide on what the goal of the sequence will be. It could be something like:
Driving an initial sale
Pushing for referral sales
Extending an offer or sale on your product
Reminding prospects to purchase a product that they've shown interest in
SaaS company LeadFuze used automated sales sequences to bring in $30k Monthly Recurring Revenue (MRR) over 12 months. Once they had their prospects in their sales funnel, LeadFuze followed them up using a sales sequence that focused on a "QVC Formula" (Question/Value Proposition/CTA).
This is what their sales sequence looked like:
Question
LeadFuze said the first sentence in their sales sequence was crucial.
"Most people try to lead in with some sort of introduction and this just tips off the prospect that they don't know you," Founder Justin McGill said. "Instead, try to lead in with a question that pertains to your business."
Value proposition
They didn't have any fluff in their sales sequence. Leadfuze cut to the chase and told their prospects what made their software unique and then provided an example of how it worked in a sales environment.
CTA
Instead of ending the email with a cliche "I look forward to hearing from you", McGill said their CTA aimed at getting a specific response – interested in a demo?
Here's what the first email in their sales sequence looked like:
And then, depending on the prospect's response, the automation decided what email the prospect would receive next. If they didn't reply, the prospect would then receive:
A case study
A value add (for example, a recent blog post or a white paper/another case study)
Break-up email so the prospect knows the follow-ups will stop
As LeadFuze was running the sales sequence using automation software, they were able to track how successful the campaign was and tweak anything if they needed to.
McGill said using a tool and having the sequence run in one place made prospecting and setting appointment times with interested prospects so much easier.
"This is the exact process we've used to grow our own business to $30k MRR in the first year," he said.
"Everyone's results will be different, but the principles should roughly be the same: Find and reach your target customer, craft an outreach plan that is personalized, and follow-up."
Pro-tip: Using a program like RevenueGrid, you can launch automated sales email sequences that interact with other communication channels like SMS, social media, and calls.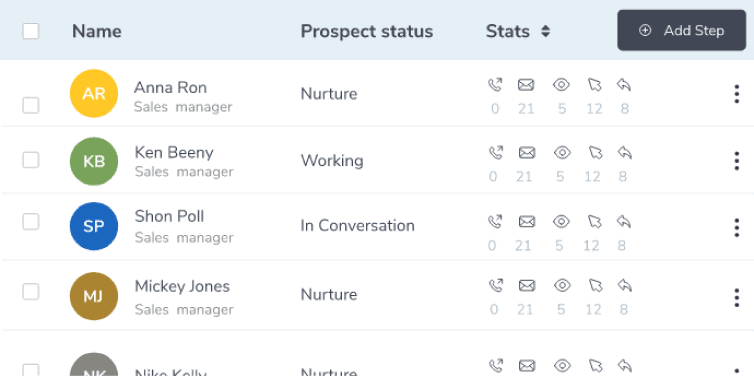 By integrating all your sales channels, your sales team can have complete engagement across every communication channel. And the more engagement you have with prospects, the higher your chances of closing a deal.
The only way to follow up at scale is by automation.
Following up with prospects is a constant battle for sales teams.
On the one hand, not following up is costing sales teams the chance to close a deal with a prospect. But following up with lazy emails or poorly executed bulk emails can be just as bad for sales figures.
It's becoming painfully obvious to sales teams that the only way to follow up at scale is by executing smarter automation campaigns. By adding automated sales sequences into a sales reps' toolbox, they will have the power to follow up with prospects with less manual effort.
Once the hard work of following up is passed over to automation, it'll give your reps more time to focus on those prospects who are engaging with your product⁠—and close more deals.